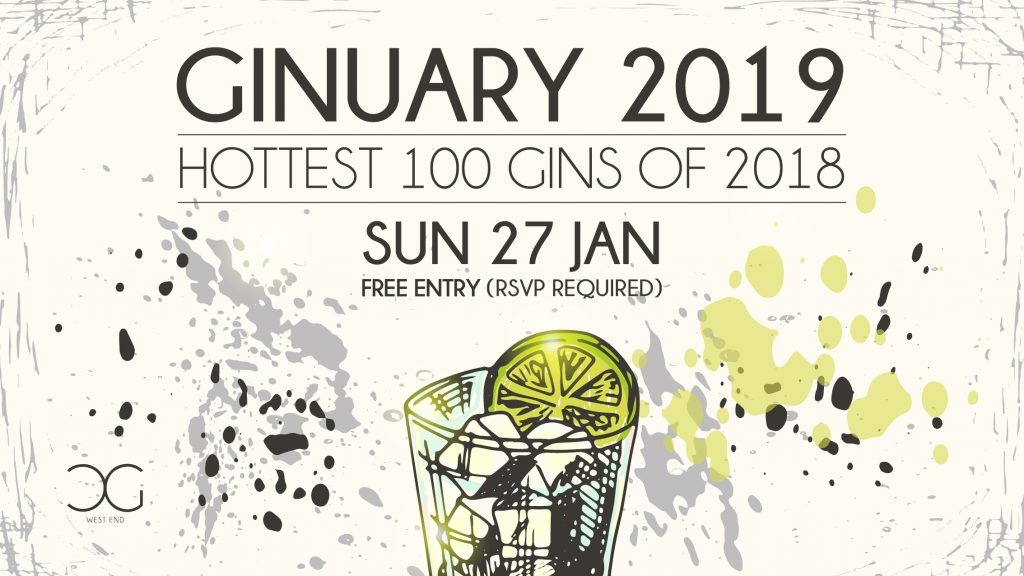 GINUARY 2019
Hottest 100 Gins of 2018!
If you think GINUARY 2018 was big, better start getting ready for a gin-ourmous GINUARY 2019!!!
Let us introduce you to the very first HOTTEST 100 AUS & NZ GINS countdown, taking place on Sunday, 27 January from 11am at Covent Garden, and broadcasted throughout Australia via live online feed on our website & FB page.
We'll be counting down the best of Australian & NZ craft gins, as voted by you, either via our online survey (https://goo.gl/M45Mai), or directly at the venue (via corresponding forms) from Monday, 17 December to Friday, 25 January (voting closes at noon).
It's been a huge year for local craft gin lovers, with dozens of new arrivals to the scene, multiple limited releases from already established distillers, and an ever-growing number of amazing events celebrating this fine spirit.
Now, it's time to wrap up the year in style, and what better way to do it than by throwing yet another massive party, while we invite you to join us & share with us your favourites picks of 2018!
Events details:
– Doors open at 11am
– FREE ENTRY (RSVP by filling out online survey – https://goo.gl/M45Mai – for priority entry)*
– Ink Gin pop up bar (GIY = gin it yourself, by choosing one of 7 tonics & 100+ different garnish combinations)
– Brookie's Gin micro-masterclasses every hour
– Four Pillars Gin tasting paddles
– $500 in venue vouchers & limited edition stock giveaways
————-
*Free Entry subject to venue capacity (250pax). For priority entry, please make sure to place a vote for your TOP5 GINS of 2018 here: https://goo.gl/M45Mai