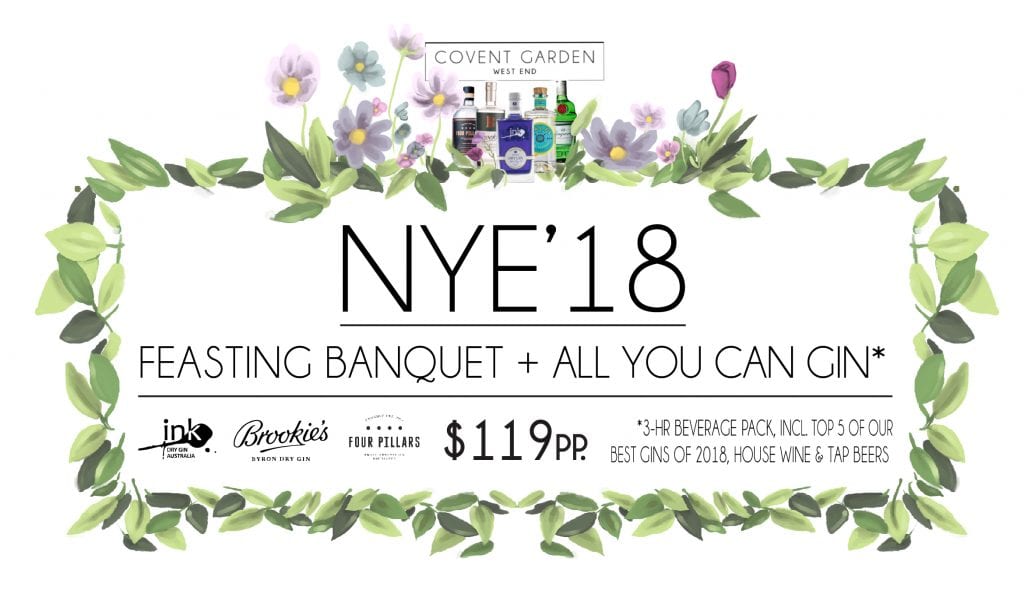 NYE'18 FEASTING BANQUET DINNER
Featuring Top 5 Best Selling Gins of 2018!
This NYE, we invite you to indulge in a delicious bespoke FEASTING BANQUET DINNER, carefully paired with our TOP5 FAV GINS OF 2018, as voted by you!
You can expect a delicious spread of chefs specialty dishes paired with a 3-HOUR 'ALL YOU CAN GIN' BEVERAGE PACKAGE including Ink Gin, Brookie's Gin, Four Pillars Gin, Malfy Gin and Tanqueray Australia, as well as a selection of tap beers & ciders, house wines, soft drinks & juices.
The banquet will begin at 8pm making Covent Garden the perfect place to start your NYE! Limited tickets available for $119pp, with a minimum booking of 2pax.
———
STARTERS:
– Ploughman's board: charcuterie – remoulade – chutney – mustard – bread (gluten free option available)
– Mezze board: olives – feta – pickled vegetables – baba ghanoush – bread (vegetarian / vegan & gf options available)
APPETIZERS:
– Manchego croquettes – aioli (vegetarian)
– Zucchini fritters – lemon yoghurt (gf & vegan options available)
MAIN:
– Lamb shoulder – asparagus – spring peas – artichoke – shallots – jus (gf)
SIDES:
– Sautéed greens – sugar snaps – green beans – snow peas – cos (v)
– Hot chips – sea salt – vinegar (gf)
DESSERTS:
– Chocolate chia cupcake
BEVERAGES:
– Ink Gin
– Malfy Gin (Rosa, Limone & Arancia)
– Brookie's Gin (Dry & Slow)
– Four Pillars Gin (Dry & Christmas)
– Tanqueray Gin
+
All tap beers & ciders, house wines, soft drinks & juices
———
For tickets. go to: https://goo.gl/6y3u93
Let the NYE celebrations BE-GIN!
Tickets