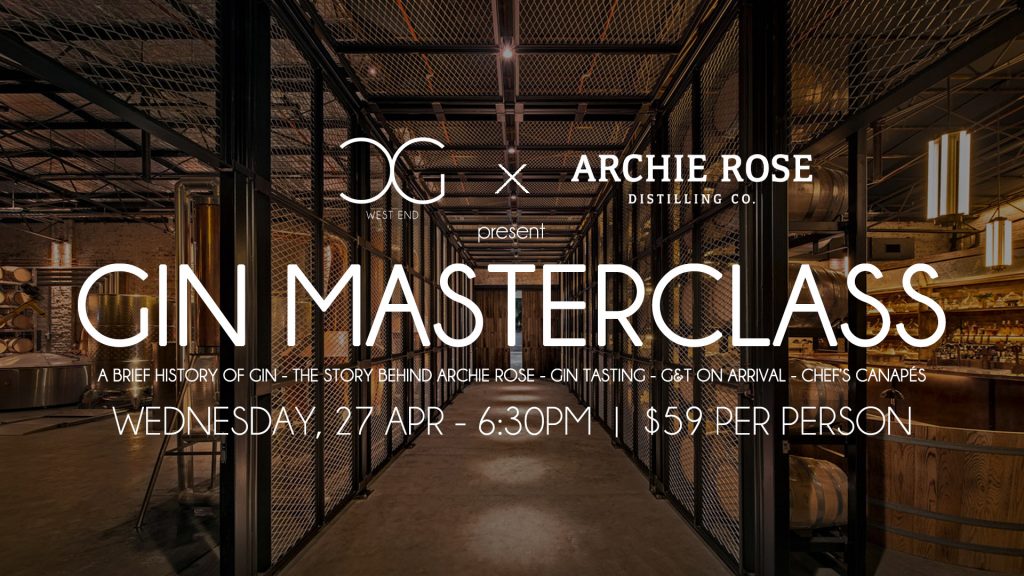 GIN MASTERCLASS – PRESENTED BY ARCHIE ROSE
Ever wondered what makes gin taste so good? Join us for our premier Gin Masterclass of 2022 – feat. Archie Rose – and we'll show it to you!
For our first masterclass of 2022, we've teamed with Archie Rose (who also presented our very first ever Gin Masterclass back in 2018), one of the most-awarded Australian gin distillers, and also the brains behind the NOT-SO-PINK GIN – an extremely rare once-off limited release creation, tailored specifically for the the launch of Covent Garden's Monthly Gin Subscription Club (more at: www.cgginco.com.au) – which you will have a rare chance to taste & take home with you on the night!
Join us on Wednesday, 27 April from 6:30PM, and indulge yourself in an exquisite range of their amazing spirits, served neat, on ice, as well as paired with premium tonic & soda, learn how to make a perfect martini, and hear Archie Rose's unique story & gin-making process. As usual, we'll also match it all with Chef's selection of tasty canapés served throughout the evening, to make sure everyone leaves satisfied.
The tickets are limited to only 30 guests, so make sure to jump on them quick & avoid missing out! Tickets available now directly via FACEBOOK and/or EVENTBRITE – please use the latter if using any promo codes.
Click HERE FOR MORE DETAILS